~*~*~*~*~*~*~*~*~*~*
Congratulations to the Hermann's on this handsome red sable boy! You guys waited quite a while for little "Trey", we're so glad that this boy was a great match for you! We're so happy that this boy get's to call your home his own, thank you so much! 
UPDATE: 2/10/13
Hi Tiffany, Thought
I'd send the pics we took of Trey the day he arrived and one of us today. He is such a wonderful little guy. He is the talk of our gated community. He has really taken to walking on his harness and leash. BUT, we have to take alot of stops as people and their pets just fall in love with him. He is doing so good with commands. Potty training is slow tho.
He has learned to fetch his thrown toys and bring them back to me and drop them. He sleeps all night and is eating well. He hasn't drug out to many of Hermans socks off the bedroom floor. He does like to talk back to us tho when he is told not to chew on anything other than his toys. Still thinks he can get us to believe he is the boss. That aint gonna happen!!!!
Well thats about it. He has a appointment 2/15 with Dr peggy for his shots. Then we will be taking the motorhome on a trip to Arizona for about a month. Will let you know how he fairs on the trip.
As always Herman and I want to thankyou for this blessed puppy and the way you breed and care for all of them.
Hugs and best wishes, Nancy
~*~*~*~*~*~*~*~*~*~*~*
"Sophie" before going to her new home! (Charting 3.5-4lbs)
Congratulations to Debbie and family of Idaho on this stunning blue merle girl! Thank you so much for giving this beauty such a wonderful home, we're so happy she is doing well!

Email Update March 2013
Hi Tiffany,
I can't begin to tell you how much joy this little girl has brought into our lives. The photos don't do her justice. She's a fuzzy little fluff ball with the sweetest black and brown freckles. Though she's still so tiny, she's gained a pound and now weighs 2 ½ pounds.
She's always so joyful and dances like a little marionette when she sees us. Even if we've been gone for only an hour, she does her little dance, bouncing back and forth. It's amazing how something so small can jump so high!
She's made good friends with our huge Manx cat, Georgie. Though he's a very large cat but he instinctively knows she's very small and is so tolerant of her playfulness. He'll lay on the floor and let Sophie climb all over him.
She sleeps through the night now and has her bed next to mine.
She loves going with us on car rides. We hang her carrier over the headrest and then connect the seat belt through the handles. Her carrier has a safety strap connected to her harness so she can't jump out.
She's so unique and draws a crowd everywhere we go! First comment is always, "That is the cutest thing I've ever seen", followed by, "What is it?". They're not asking what breed of dog, they want to know what kind of animal. No one has ever seen anything like her. Of course, they want to hold her. I'm always obliged to hand her over and they're so impressed by her sweet disposition and manners.
At home she's a feisty little girl and oh so very bright. Her loving temperament makes it very hard to not spoil her. I must admit it's difficult for me to avoid doing just that. But I'm learning quick that as smart as she is I have to be equally firm. She likes to tease and tries to turn everything into a game. It's quite obvious she was taught many commands before she arrived. Tiffany, you did well with her.
Sophie knows she's loved…… She and I get up very early every morning to have our breakfast and then fall back to sleep before getting ready to go to work. I don't think there's anything I enjoy more than getting down on the floor and playing with Sophie. Except, perhaps, having her fall asleep on my lap. Sophie has brought a comfortable peace to my life. I embrace the thought that she and I will grow old together.
My Mom will be meeting Sophie for the first time here in a few days. I know she's going to fall head over heels in love with my little puppy.
Thank you, Tiffany, for bringing this little girl into our home. We love her dearly and can't imagine life without her.
-Debbie
~*~*~*~*~*~*~*~*~*~*~*
"The Babies" with their toy box!!!! What lucky puppies!
  Congratulations to the Dale's of Tacoma, WA on these TWO gorgeous puppies! Kaci (cream sable) is such an energetic and outgoing girl, she complements Parker's (Blue Merle Parti) sweet laid back personality. We know taking on the challenge (and joy!) of raising two puppies together is not for everyone, but if anyone can do it, I trust that you can! We couldn't be happier that these puppies will get to call your home their own, thank you for everything!
UPDATE: February 2013
Tiffany,
Just wanted to let you know that the pups are doing fantastic. I just love these little guys. They are happy, playful, cuddley, smart animals.You have done a phenomenal job raising these poms.
They have been to the vet, and "everyone" went wild over them. The vet staff remarked on how beautiful their coloring was.Kaci and Parker were the hit of the entire office. I did hand out your card and highly recommended you!
Kaci and Parker spend their glory days eating, drinking, sleeping and lots of playing, they know where their potty pad is and use it frequently. They enjoy playing tug of war with eachother, and have taken over the cat's toys, lol! Their favorite game is playing keep away with a tiny soft ball. They also will play fetch with the ball. Pretty amazing!
Thanks for everything!
-Jennifer
~*~*~*~*~*~*~*~*~*~*~*
 May 2013
Congratulations to Wanda on this gorgeous solid chocolate boy! We know he will make a fantastic addition to your small breeding program! Thank you so much! 
~*~*~*~*~*~*~*~*~*~*~*
Congratulations to the Roach family of Omak, WA on this stunning red sable girl. We know that "Maggie" is in great hands, thank you so much!
Hi Tiffany,here are a few pictures of the terrorist, ha ha Maggie is doing real well, just had second vet visit, she was 2 1/4 lbs at her appt, on the 15th. received her 7 way shot, all is well.
   I must say, not bragging mind you, that She is sleeping all night now, has had no accidents in the house for weeks, has taught us really well , what ,"I GOT TO GO" means.She Is actually enjoying being brushed. Like i said, not bragging, but she also has learned to sit, wait , go get the ball, bring it here and drop it. then sit, , give me 5 with her right paw, and "Now the other one" with her left. at which point she had better receive the cookie or you can expect to get attacked, ha ha
  Tiffany, Diana and i both need to comment on how well adjusted this dog was , from the onset. which speaks very highly of your work and efforts.
She is very attentive , wants to please. and goes nuts for children. We look forward, I think, to the times when we can take her to the park,and for walks. She's already a hit here in Omak, at the local feed store, and the post office where , if we don;t bring her the postman is bummed.
 Di and i would both like to thank you for choosing us. Maggie is such a pleasure .
Carl
~*~*~*~*~*~*~*~*~*~*~*
~*~*~*~*~*~*~*~*~*~*~*

Congratulations to Maria and Isaac on this darling cream girl! "Luna" is such a sweet little girl and she looks so much like her sire, Casanova, did at that age! We know she is in really great hands and that you guys will adore her as much as we did! Thank you so much!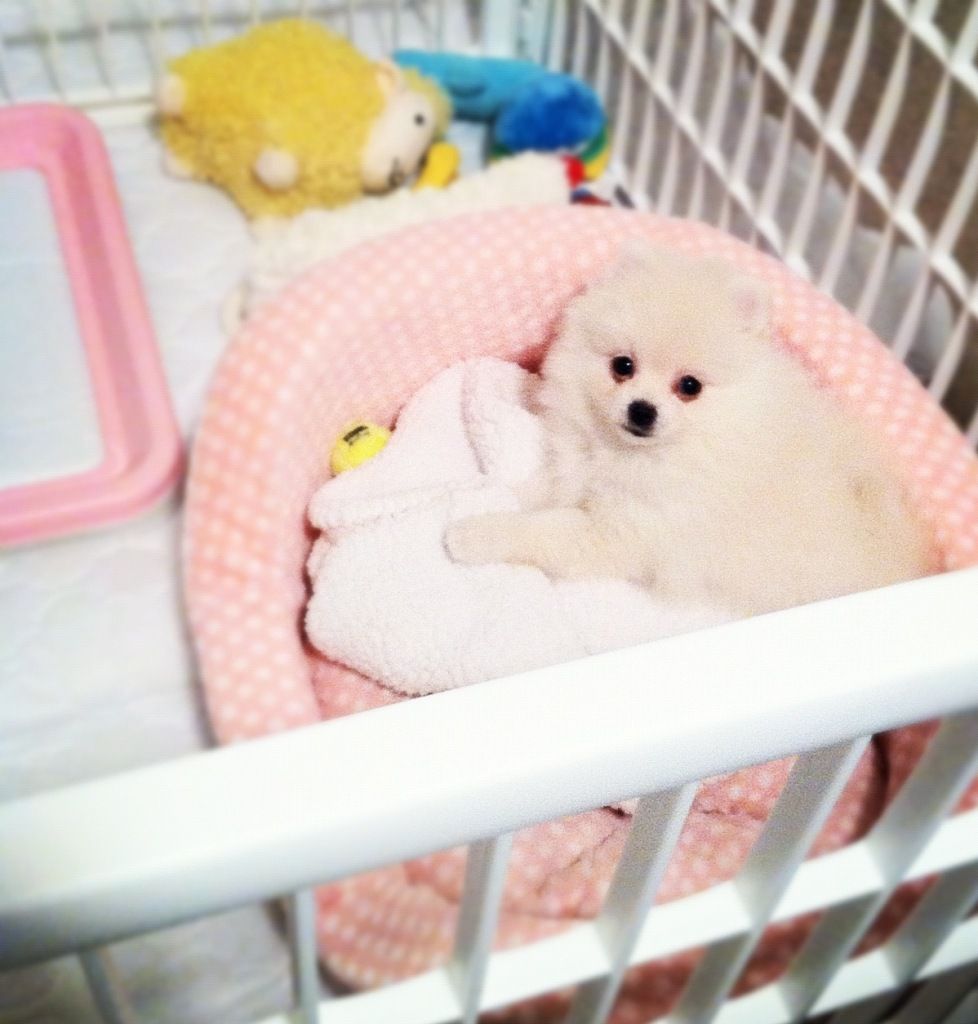 Greetings from the Buley Family! 
Luna has been here since Wednesday & has adjusted to Isaac & I very well! She has been getting up around 5am with Isaac's alarm for work & is ready to eat & play. She stays up till 8-8:30am & is then ready for her first nap. Immediately after each time she wakes up Luna is put on her potty pad. Potty training her has not been difficult. As each day passes she is getting better & better going to the bathroom on her potty mat all by herself at times.  
Isaac & I are very, very happy to have her in our lives! She fits our personalities & temperaments perfectly. She's very affectionate, loves to play & tries to be aggressive. It's really funny! We are fans of watching The Dog Whisperer & are current subscribers to his magazine & know what it means to be the "pact leader". We don't let Luna get away with her whining (which has lessoned every day). We never forget to praise her as well when she has done something good.  
Luna has been a fluffy bundle of joy! We love her so very much! She follows us like white on rice hahaha & has become comfortable in our home. She loves cuddles & her daily brushing in the evening when she's laying down.  
Isaac & I received a phone call from the vet early this evening & her stool sample results were negative for any parasites, everything was normal. We take Luna back to the vet in two weeks for her next set of shots. The doctor did not give her any shots this time around because of her small size & the fact that she did receive shots the previous weekend with you.  
Thank you, Tiffany & your mother, we have a healthy & loving puppy, a wonderful little blessing to our family! 
-Isaac & Maria
UPDATE on Luna April 2013!!!!
UPDATE April 4th, 2013!!!!
Hello Tiffany!
 
Just wanted to give you an update today on Luna's 1st birthday today
 
Luna is wonderful! She's up to date on all her shots & was spayed & microchipped in October & recovered surprisingly fast. We take her back to the vet in May for her next check-up. Isaac & I really love Dr. Nemeth & the staff at NW Animal Hospital, they are terrific! Luna is treated like a rock star when she visits & loves being the center of attention.
 
We enjoy taking Luna to the park for walks on the trails. She does very well around other people but is a little nervous around dogs. We plan on socializing her with other dogs now that she is a little bigger.  With no doubt, Luna's favorite thing to do is play fetch! She gets impatient if we take too long to throw her toy or ball, so we make her sit & wait.
 
Isaac & I absolutely love her! She has the funniest personality & is so feisty & full of energy from the moment she wakes up till the moment she goes to bed at night. Luna is almost childlike & for some reason loves to wake up really early on Saturday mornings. She follows Maria wherever she goes & whimpers when she's not around. She enjoys dressing up in her sweaters when it's cold & never hesitates to go for a ride in the car. We bought her a car seat a while back so she can be safe & comfortable while we travel & she could easily see outside. I would recommend the car seat as well if one has had trouble with their pet having car sickness. Ever since we purchased one, Luna has not gotten sick.
 
All in all, Luna is our little fluff ball of joy & has brought so much love to our family! Everyone loves her wherever we go & always compliments on her behavior, cuteness & color!
 
Thank you once again!
 
Hope you're doing well,

Isaac & Maria 

~*~*~*~*~*~*~*~*~*~*~* 
March 2012! 
Congrats Topale family of Sharon Massachusetts on these GORGEOUS boys! "Dallas" (chocolate & tan) and "Denver"(black & tan) are so lucky call your family their own! We are so excited for you guys to finally have your boys home with you, we will miss them here for sure. Enjoy them!
 Dallas (left) and Denver (right) a 1 year old! (JANUARY 2013)
HELLO!!! Denver and Dallas are doing amazing!! Yes, they are eating well and getting along well. They are good - soooo cute!  They pounce around.  They go to nip and we say no and easy tap their nose and they look at us and stop -- good listeners!

The girls love them - Dallas and Denver are getting plenty of attention! They are so socially ready!!! you did a great job!!!  Yes, got puppy pack today!  Can't believe all the goodies you sent! Soooooooooooooooo wonderful!!!!!  Dallas and Denver loved those hard bone things... yes lots of good info!

They seem happy – lots of doggy kisses and tail waggings so they seem good. Yes, you can give out my email address – most definitely!!!!  All the greatest to say!

They look for each other when outside. Naomi taught them how to sit and they pretty much do it on command with a treat now.... so she practices that a few times a day with them.  She is very patient :)

They are funny to watch – they love the toys you sent – we didn't show them everything yet of course – they love to play tug-a-ware with the rope/blue circle thing you sent.  And Joe got these little angry bird things that they love too. Dallas and Denver look so cute when they are walking together as they will walk so close and their colors look soooo good together.  We love to watch their tails with the white stripe going up... Denver's tail is always wagging – Dallas more the body not the tail.

 It got cold today so we went to put on their sweat jackets (just for fun) and they were too big!  wow – got XS , and they looked so cute in them.  So... off they came and we'll try again when a little bigger.  They are more patient as we put on the harness/leash now – takes a few seconds to do all that.

They seem happy and we give them lots of love!!

Take care and more updates later on,
Laurie
~*~*~*~*~*~*~*~*~*~*~*
Congratulations to Julie and Kent of Wicket, Texas on this gorgeous girl! Thank you so much for flying up from Texas to pick up your new baby in person, little Dolly is so lucky to have gone home with you, thank you for everything! 
UPDATE: April 2013!
Hi Tiffany!
I've been meaning to write and send you an update on our little Dolly.  She is wonderful and we are so happy to have her.  I'm attaching a couple of photos that were taken at about 12 weeks.  She is still small, but growing.  The last time she was weighed at her 12 week check-up, she weighed 2 lb. 8 oz., which still is charting to be about 4 lbs.  She is very smart and house training is almost done - just a rare accident, but that's usually my own fault.  Everyone at work loves Dolly, and thinks she's precious, and full of personality.  Through the day, she doesn't want me to be out of her sight, but in the evening she is Kent's lap buddy, and ignores me. Funny, but I'm glad she has taken up with both of us. Dolly is also a good traveler, she went to San Antonio with us a couple of weeks ago, and did so well.
We are so happy with our puppy!
Thanks so much!
Julie & Kent
P.S.  Now Dolly is starting to lose some of her coat and is starting the scraggly stage, so I'll send you another picture once her full coat comes in. LOL!
~*~*~*~*~*~*~*~*~*~*~*
 Congratulations to Julie on this incredible Brindle girl!!! We are so proud of "Jade" and are so excited this beautiful girl is getting such a wonderful home! Thank you so much!  
I wanted to give you a progress report :) Jade did wonderful on the drive home. She is lovely! Loves the kids and puggle :)  I SOOOOOOOO LOOOOOVEEE HEr!!!!! Thank you again for picking US,
Julie
~*~*~*~*~*~*~*~*~*~*~*
 Congratulations on this STUNNING CH sired girl! I just know that you are both going to adore "Lexi", she is really something!
Hi Tiffany, 
Lexi is doing sooooo well. She has just taken to all of us and is a real joy to have. I have a video I want to put on utube of her playing with our pet chicken at the family bbq, crazy cute! She is a character! Her potty training is going great. I take her with me to work and everywhere, she even hung out at Michael's store for a while yesterday and was so good. We love her and will take really good care of her. Thank you for raising such a wonderful precious puppy!!
Jill
~*~*~*~*~*~*~*~*~*~*~*
~*~*~*~*~*~*~*~*~*~*~*
Congratulations Mathew and Linda on this STUNNING Tri-Parti girl! "Luna" is such a clever name because of her cresent shaped blaze. This beautiful girl was so much fun to have around the house, we are so excited for you be able to enjoy this special girl!
Congratulations to Mathew and Linda on their SECOND Precious Pom! We're thrilled Luna will have a little "brother" to play with and grown up with, thank you so much for choosing another one of our puppies!
 ~*~*~*~*~*~*~*~*~*~*~*
Congratulations to Nile and family on this gorgeous wolf sable girl! We really enjoyed raising "Storm", we know she is going to bring so much joy to your home and family, enjoy her! 

Hey Tiffany,

Sorry I didn't write earlier, I was having some computer problems...and I knew this email would be long and i didnt think i could do it all from my phone! hahahaa

So, Storm is doing GREAT!!! Im glad you liked the video and the photos. I take so many photos of this dog its ridiculous! haha

She is sleeping through the night. Last night was her 2nd night sleeping through from about 9pm until my husband goes to work at 5am. He takes her out to the front yard and hangs out with her for a while and then leaves. She barks for a couple min and then goes back to sleep until our daughter and I wake up about 8am.

We are so pleased with her potty training. We were trying newspapers and potty pads and it was a disaster! She was always missing them and going on our carpet and floor. Since we started taking her outside to the front yard about 3 days ago, she hasnt gone in the house at all! She goes right outside, goes potty, plays for a couple min and then we come back inside. She has been really great about it. She doesnt even go through the night! We love her so much and she is such a great addition to the family. Yes her poops are good. like little logs. She is teething like crazy though! biting everything she can get her little paws on. but we have been really good on telling her NO BITING. and she doesnt nibble on us. She also listens very well when we tell her to be quiet. She is doing big things =) Very playful and such a love bug! I spend all day with her and we have good times.

The question I was going to ask you was about potty training, but it seems to be working out well....another one I have for you....Is it ok to be using her "play pen" as her sleeping area for night time? we have not been putting her in a tiny crate at night. She has full run of the downstairs of our house after she goes out potty, and while one of us is hanging out with her, but she goes in her crate when we are upstairs for any reason, when we eat meals, leave the house, and at night. Are we doing that right?

We thank you and your mother for raising such a healthy and loving puppy. =)
-Nile
~*~*~*~*~*~*~*~*~*~*~*~*~*~*~*
Congratulations Keto Family! I know that "Biscuit" will absolutely love having kids to play with. Enjoy him!
Hi Tiffany,
Latest update:
Biscuit is housetrained. Yay! It just finally clicked one day and he's never looked back.
He's doing so well. We completed the advanced training at PetSmart, and Biscuit passed his Canine Good Citizen test. He is very smart and has been fun to train. I've spent many hours training him (hundreds!) but I feel the rewards outweigh the effort, as I can always rely on his good behavior and anticipate what he needs. We've grown very close because of the training and in a way, he is my little white shadow.

I groom him frequently and his coat is GORGEOUS. He lets me clean his ears without fussing, every week. I also bathe and brush him weekly. I trim him by scissors as he doesn't like clippers. We are working on tooth brushing and really it is the only time he fusses with me. He smells so good, and as a result he is held a lot.
Part of his excellent disposition is that he gets to run off-leash every morning with me at a very large local park. He socializes very well with other dogs, is friendly, and seems to know when to stay away and when to play. He's streetwise with other dogs and keeps out of trouble, but plays with other dogs his size. Since we go at the same time each morning and see the same dogs, the "pack" has been established and he understands the pecking order. They have a lot of fun together, although they are all different breeds and personalities. 
Humans love Biscuit and his friendly affectionate personality. He is confident with new people. I think there might be more people in my town that know Biscuit's name than my own!
I think he's around 6 or 7 pounds. I haven't weighted him but his fur makes him look bigger, of course. His coat is really amazing and so thick. It's cream with buff colored areas. 

Best,
Jill
~*~*~*~*~*~*~*~*~*~*~*
 "Finn at 8 weeks old" (Kya X Casanova) 
Congrats to the Williams Family of Pillsboro, Indiana on this stunning cream sable boy! I'm sure you guys are going to have so much fun raising this gorgeous puppy, enjoy him!
~*~*~*~*~*~*~*~*~*~*~*
Tiffany, Oh my gosh, we loveee her!!! She eats and drinks and plays like she's been here for years! Her appt went great as well! Right now she is inside her toy box playing. I've taken so many pictures so far she's probably sick of me lol, she's the happiest puppy I've ever seen! Thank you!
-Tasha
~*~*~*~*~*~*~*~*~*~*~*
Congratulations to the Mosteller Family of Colville, WA on the tiny red sable girl! Molly is so lucky to call your family her own, enjoy her!
We want to thank you for raising such well behaved precious poms. They really are top quality loving pets. Our Molly is so smart she is shown a couple of times and she has it, potty training, bringing back her ball, sleeps wonderfully at night, eats great and loves us. she is wonderfull...Thanks Parker family!
Congratulations on your second Precious Poms Puppy! We were so excited to have you return for a full sister to your Molly, Thank you so much! 
~*~*~*~*~*~*~*~*~*~*~*
Congratulations Melissa and family on this darling cream boy!
Mochi at a year old!
Hi Tiffany,
Mochi is doing great! He got some new toys for his birthday. His creamier shading started coming in late last year. He is now "fixed" and potty trained. He took to potty training really well and learned really fast. In contrast, my sister's dog still has trouble sometimes while Mochi goes most nights without accidents. He loves to play and is active. He also loves to sleep under the covers. He is brushed daily (he needs it with such a huge coat). He really likes to follow my mom everywhere. We have been using angel eyes occasionally, mostly when the tear staining gets pretty bad but mostly we just leave it. He likes a lot of different toys such as rings that my other dog never took to. He also like to play with balls and he especially loves toys that squeek. He does this thing where he loves to carry certain toys that he is currently obsessed with everywhere and he carries toys in his mouth and just squeeks them, just to hear the sound. My other dog never did this and we find it adorable. 

We've stopped giving Mochi toys with stuffing because he likes to tear them apart and we are afraid that he will eat the stuffing, so until he is a bit older, he is not getting stuffed toys.

He is the sweetest dog anyone could ever ask for, he is loving and adorable. He is happy to play or to sit with you while you watch tv. Anyways, I hope you enjoy the pictures and I cannot wait to see the pictures of Mochi's soon to be siblings. Let me know whenever you would like new pictures, I love to share pictures of Mochi.
Have a great day!
Melissa Wong
~*~*~*~*~*~*~*~*~*~*~*
Congrats Cahill family of Napa, California on "Stella"! Thank you so much for flying up to meet us and carry your gorgeous black and tan baby home on the plane with you, I bet you and four daughters are going to adore her! Thank you so much!
Tiffany, Stella went for her 12 week vaccinations. She is the best puppy ever! If you ever need a reference you can use us. Honestly she has exceeded our expectations. What a wonderful gift you've given our family. Thank you so much.
Love, the Cahill-Titus Family
~*~*~*~*~*~*~*~*~*~

These beautiful parti girls are Scarlett & Sabrina! We are 

keeping them back to add to our program. They are out of 

Whisper X Monte (DOB 1-16-12). We look forward to

 seeing how these stunning parti girls turn out! 

~*~*~*~*~*~*~*~*~*~*~*  
Congrats Tina and Robert of Portland, OR on your new puppy "Bullet!" He is one handsome little boy! January 2011.
*UPDATE* Tina and Robert returned for their second Parker's Precious Poms' Puppy!
Congrats on "Raider"! We are so happy he gets to go home with you and his older brother "Bullet! Thanks again! July 2011
 ~*~*~*~*~*~*~*~*~*~*~
Bella Blue (left) and Cashmere (right)! 
Congratulations Sotiropoulos Family of Harvard Massachusetts, on your TWO new additions! These GORGEOUS CH sired litter mates are so lucky to be able to share your family, thank you guys so much!